FinaCare is a mobile phone application designed to help the Millennials to:
know and understand their finances

foster efficient financial management skills while actively planning for saving
This is a USAA sponsored project which went through 2 iterations of user research and design process, and presented directly to the senior executives on USAA campus.
| ROLE |
User Researcher
UX Designer
| METHODS |
Survey, In-depth Interview,
Modeling, Affinity Diagram,
Competitive Analysis,
Personas, Storyboard,
Wireframe, Prototype
| TOOLS |
Axure, Photoshop,
Illustrator, InVision, After Effect
| TEAM |
Katie Hicks
Xiaoshan Li
Chen-Chun Shen
THE PROBLEM
"HOW MIGHT WE IMPROVE THE FINANCIAL HABITS OF OUR USERS?"
USER RESEARCH
FROM COLLEGE STUDENTS TO THE MILLENNIALS
We've conducted two iterations of this project - including two rounds of user research and two round of re/design.
The scope of the study was tweaked from college students to the millennials per the request of our stakeholder.
In the 1st iteration, we focused on collecting data from college students as our target users.
We assumed college students and young adults have different lifestyles and resources when compared to adults that are well into their career and family development. This application aims to understand these differences and utilize them to help students be smart with the money they have and save for the future.
In the 2nd iteration, per the request of our client USAA, we reset our population parameter and targeted the millennial generation. We distributed the survey to UT students who were born during or after 1990 and over the age of 18, hoping to expand the scope and reach out to people who have jobs or military affiliation (potential customers of USAA).
With the data from the contextual inquiry with college students, we conducted contextual analysis. The result includes: attitude presented through nonverbal expression, certain data, and relevant direct quotes. We then brainstormed and created the work activity affinity diagram (WAAD) based on our data.
Survey Finding
We distributed the Millennial survey and conducted data analysis based on several aspects: savings, budgeting, loans, and device use. The survey results gave us further insight into how do Millennials use money and their attitude towards their finances, which resulted in the design of FinaCare.
Budgeting habits and methods
Saving frequency and tools
Household income vs. saving habits
Channels preference and ease of use
In-depth Interview
We also conducted follow-up interviews with some of the survey participants who were willing to share about their personal specific financial activities and their financial aspirations.
Our findings include: hard to access bank, save right away, wanting more advice but no customer service, understanding credit cards, and their mobile finances.
COMPETITIVE ANALYSIS
We also conducted competitive analysis with different financial mobile applications on the market. From the competitive analysis and the data from interview and survey, we learned the features that Millennial users like and implemented these functionalities into our design.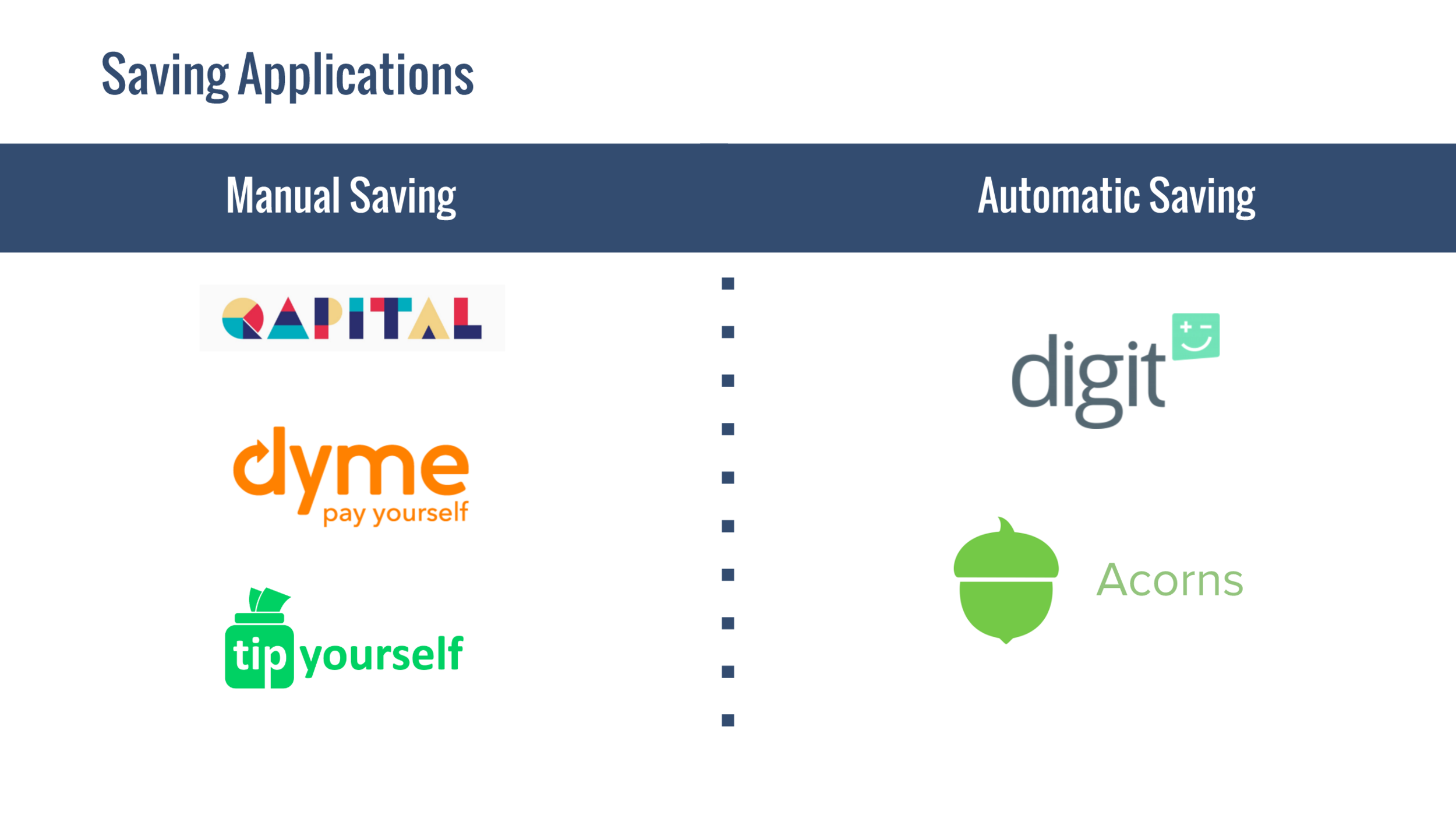 Requirements and Modeling
Bills and Payments
Users should receive notifications of upcoming bills or payments.
Application should have a dashboard dedicated to monthly bills.
Budgeting and Financial Management
Users should be able to track spending.
Users should be able to freely categorize spending.
Application should provide users with visual representation of their spending based on categories (e.g. food, housing and entertainment).
Application should provide users guidance and tools for setting budgets.
Saving and Future Planning
Application should provide guidance for helping users save money.
Application should provide notification to users for any scheduled lump saving from users' income.
Saving for a Concrete Purpose
Application should allow users to input savings goals and provide visualization to reinforce user's ambition to save for that goal.
When users are saving for educational purposes, e.g., saving for an MBA, the application should give an estimated tuition bill based on current national data.
Retirement
Application should have a knowledge-base for general information on saving for retirement and different strategies for doing so (e.g. what is a 401k?).
Student Loans
Provide visualization and guidance for paying back student loans.
Models
We constructed user models, flow models, hierarchical task inventory and task interaction models based on our contextual analysis and design requirements. Since they could help us to define the users, show how work gets done with our application in this system and give us a clearer picture of the work domain.
Contrarily, we did not choose to use social models and work environment models. These models were not selected because FinaCare does not require multiple users to complete tasks simultaneously since financial management is private to individuals. Additionally, the use of FinaCare does not take place in one consistent work place, instead, task flows happen in a virtual space leading us to mostly focus on user models and usage models.
DESIGN PROCESS
Personas & Storyboards
Our persona building process was beginning with creating 11 personas based on contextual data, then condense into these 3: "aggressive saver", "the money sucker", and "the slave to sales", since they best matched commonalities among our interviewees data.
Finally, we evaluated and selected Nico as our primary persona, she is "aggressive saver" in our personas candidates. Because Nico has tracking transaction habits, she uses ledger and excel sheet to keep tracking of her income and expense. For the barriers, she encountered with several problems recently, she is too busy to keep the habit of tracking transaction, she thinks bank app has too many limitation, makes the situation harder to control her finance, and she forgets to save money always though she has a saving goal for graduate school. We think she is the best candidate we have for primary persona.